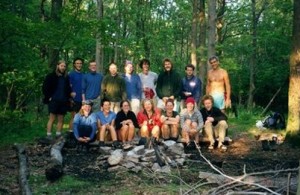 Appalachian Trail Day 90
Day 90, 05-28-01
Palmerton – Leroy A. Smith Shelter
16 miles, AT  –  1253.5  –  1419 feet
Day 19 Rain
Got to bed around 11 PM and was up at 7 AM.  I was so tired too.  That 24.9 miles kicked my butt.  I packed up and all of a sudden Tangent come in from getting coffee and she grabbed my pack and poles and walked out.  She never got coffee but got us a ride back to the trail.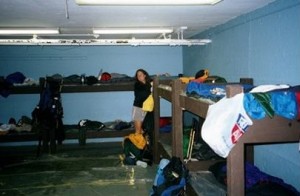 Once on the trail, it was a long rocky climb up to the ridge.  This ridge had almost no plants due to the zinc poisoning from mining.  It looked like Mars in places.  Lots of rock today and a brief spot of rain.  Some thunder too.  We didn't get any lighting like yesterday.
Saw a rabbit, squirrel and a Kestrel.  The Kestrel was diving like a Peregrine Falcon.  One time he went so fast, that when he put his wings out to slow down they shuttered and made lots of noise.  It was really neat.
Not much else really happened during the hike.  At camp Walks Alone (Brad, from my first week on the trail), Moonshower, Shera Princess of Power were at the shelter when we got there.  Later Crash & Burn, EZ-Glider, Silver, Mukwa & Anduleia, and Captain Knatty all showed up.  In the shelter it's Walks Alone, Shera, Moonshower, Vice, and a section hiker from Quebec and me.  We all took a huge group photo.
I had a great Fart Tennis match going with Silver.  I lead 15-0 as of now.  Tomorrow is the last day of PA!!  Im sick of these rocks.
I saw two snakes and some more of the orange salamanders with yellow spots.
Scatman 2011- The Kestrel was actually a Nighthawk.  There were 17 thru-hikers at the shelter that night and I won the Fart Tennis match after hours of a stalemate.  I was crowned the 2001 Appalachian Trail Fart Tennis Champion.  My prize was knowing I had the best control on the trail.  Lucky me!
———-
Scatman
Get out there!
https://oneofsevenproject.com/wp-content/uploads/2019/01/20-07-e1306552524352-300x195.jpg
195
300
Craig Fowler
http://oneofsevenproject.com/wp-content/uploads/2017/01/1of7-logo-lockup-grey-1132x212-300x56.png
Craig Fowler
2001-05-28 09:00:13
2019-01-22 10:49:07
Appalachian Trail Day 90 - Palmerton - Leroy A. Smith Shelter